Review:
Graham Sutherland: An Unfinished World
, Modern Art Oxford
from
The Oxford Student
. 2012
The number of times I have walked passed Modern Art Oxford and avoided stepping into their current exhibition for fear of feeling somewhat bemused and out of place amongst a number of presumably cryptic conceptual sculptures tells you more about my difficulties and reservations toward contemporary visual art than it does about the quality and scope of shows they put on. However, the Pembroke Street gallery's current exhibition of work by Graham Sutherland should be enough to convince the most conservative Monet calendar buyer to make a visit.
Having watched a few of BBC documentaries on the visual arts over the summer, the most enlightening being Cambridge academic James Fox's 'British Masters', I have gradually emerged from a position of being solely interested in music - my course subject - to one where the number of art books I read dangerously outnumbers those read from course reading lists. In fact, Fox's survey of British art during the twentieth-century dealt fleetingly with Graham Sutherland (1903-1980) and his contemporaries. However, it seemed to dwell a little too much on the artist's apparent creative decline after finding fame as 'Britain's greatest living artist' which led to him taking on a great deal more portrait commissions (one of which sits behind high table in Christ Church) and, most critically, not quite pulling-off some formidable 'post-war recovery' works such as the tapestry above the altar of Coventry Cathedral. The exhibition which runs until 18 March at Modern Art Oxford succeeds in putting a focus back on the artist's more assured and critically successful output.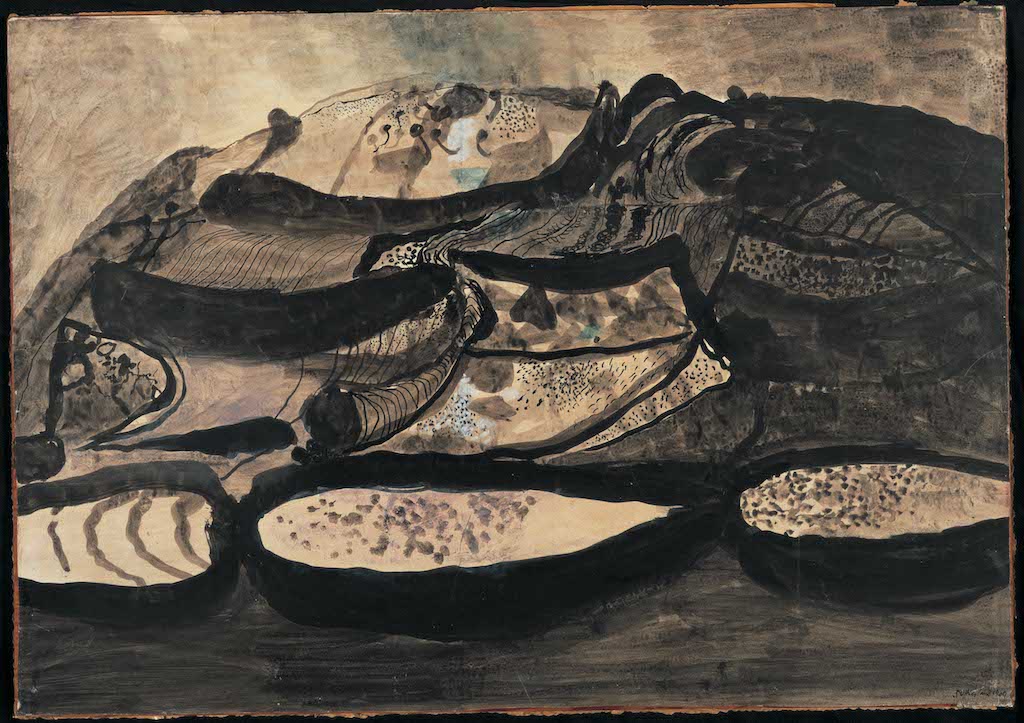 The exhibition has been expertly curated by George Shaw; the most charming and unpretentious of artists and 2011 Turner Prize nominee. Despite being his first exhibition as curator, other than ones of his own work, the clear narrative Shaw constructs to guide the visitor through the space is most successful. Arranged roughly chronologically, we begin with Sutherland's early sketches and paintings of the Pembrokeshire landscape. When grazing the exhibition's first wall we see an artist's language and style begin to evolve and find itself; the most idiosyncratic elements being his attention to the 'twisted forms' of thorn bushes and the shapes and contours of a particular Welsh road - a recurrent subject appearing in a number of variants in works exhibited and in others in the artist's oeuvre. These early landscapes such as Welsh Landscape with Yellow Lane (1939-40) are what first prompt notions of Neo-Romanticism in Sutherland's work. Aligned with figures such as Paul Nash and John Piper (among others considered in Oxford alumnus Alexandra Harris's Romantic Moderns; a book I thoroughly recommend after being suggested it in the gallery's bookshop), Sutherland is clearly of a wide generation of British artists pushed forward by European modernism yet rooted firmly in tradition. The exhibition is a fascinating exposition of the anxieties and experiments which this particular, cultural and geographical, environment created.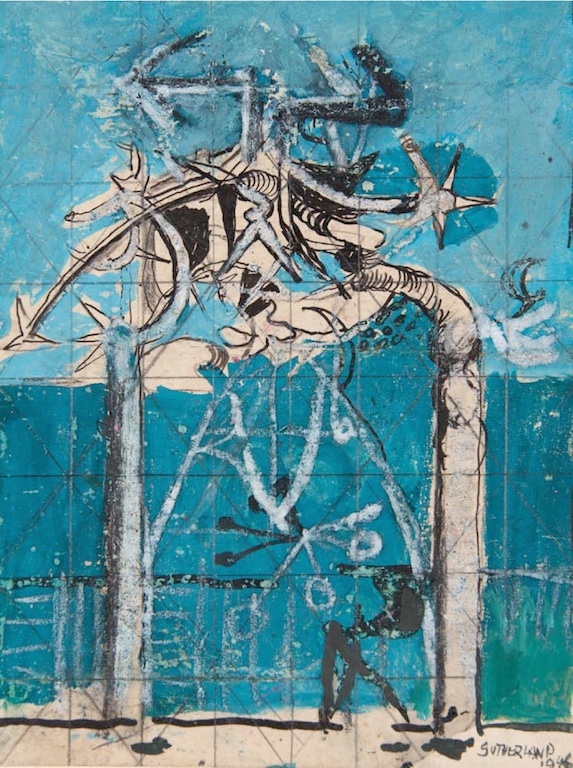 Following the more familiar Sutherland landscapes, in a smaller room that connects the gallery's two largest spaces Shaw presents a number of sketches and studies which illustrate Sutherland's attention to the peculiarities of natural forms; most often the roots or trunk of a 'Blasted Oak'. Most clearly evident in these sketches, yet easy to miss upon other exhibited works, is the overlaying of a grid in pencil from which the artist would enlarge the most exacting details of the most casual and sometimes almost impulsive brushstroke when transferring to the final canvas.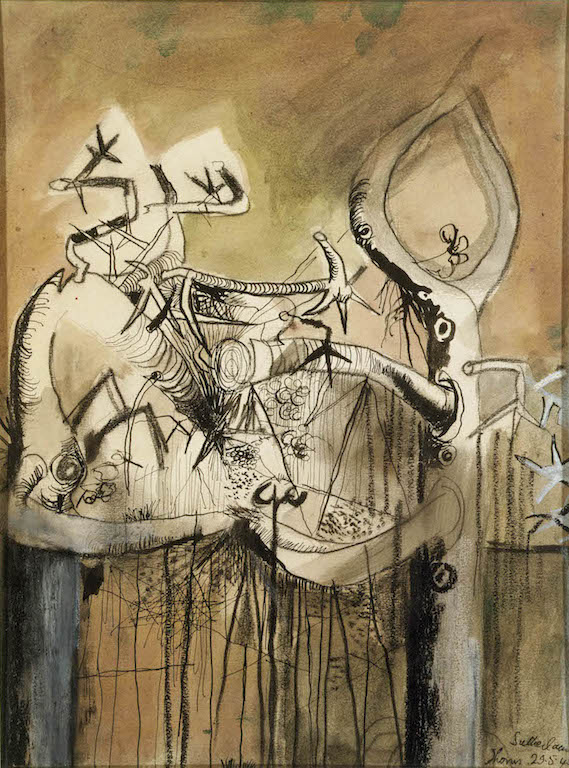 Studies and sketches of the 'micro' are contrasted by the 'macro' subjects in the adjoining larger gallery space. Put forward here is a broad selection of work beginning from 1940, created while Sutherland was an Official War Artist; the dominant themes being that of mining and bomb damaged cities. There are a number of particularly engaging works on show here but for me the most enigmatic was Tin Mine: A Declivity of about 1942 where Sutherland's mastery of tone is evident; shades of orange combine with a veering and plunging perspective to make for pyretic and claustrophobic viewing. Showing just planar urban surfaces, the angular City Panorama of 1941 certainly has something of John Piper's famous vision of Coventry Cathedral about it. Also particularly severe, and of the same year, is East End, Burnt Paper Warehouse. Here Sutherland depicts giant rolls of paper which from their incineration seem to have returned to the state of fallen timber, their tree rings fronting the observer. Accompanied by two smaller preliminary sketches of the subject (which make for a fascinating comparison) the deformed structure of City, Twisted Girders seems fundamentally informed by the shapes of the Pembrokeshire thorn bushes which are in themselves depicted in their greatest abstraction in later paintings hung in the small side-room. My personal highlight in this room, and in fact of the whole exhibition, is the striking and unmistakably Sutherland, The Thorntree (1946), whose subject is supported by two shades of background blue which seem more of the world of twenty-first century graffiti than a middle-class post-war British artist. Quite fortunately, the painting now hangs on my own wall. No, I did not steal it but it is available as a print from the gallery's wonderful shop.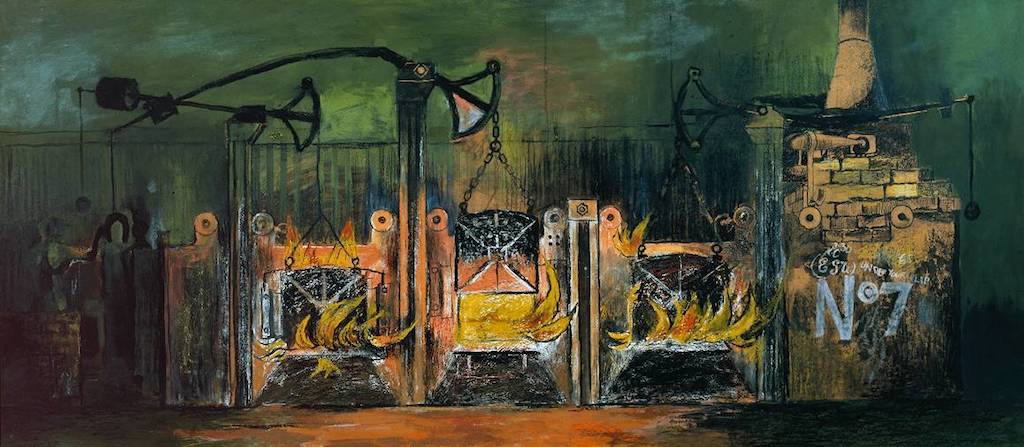 The journey through these mostly mixed-media works ends back in the largest space where, opposite the earliest paintings, hang later works and the exhibition's only examples of work created after Sutherland's return to Britain after a fifteen year excursion to the south of France. These works offer a small glimpse of what Sutherland created after returning to paint Pembrokeshire and discovering that he had not, as he thought, exhausted the possibilities of its rugged landscape. The only disappointment I found with the exhibition is that not more paintings from after Sutherland's homecoming are shown. The stylistic evolution between the two book-ending periods of Sutherland's painting of Pembrokeshire observable in just one panoramic survey of the room prompts some fascinating comparisons. A fitting finale to the exhibition is Shaw's presentation of a final painting of that Welsh road that so often appears in Sutherland's work. However, again, it is different and clearly influenced by his time abroad. It is a final page to this exhibition which proves that despite experiments in other mediums and in other locations, Sutherland's artistic home was Pembrokeshire. The sense of stylistic development that runs throughout the exhibition is rarely so successful and clear as it is here; I got as much education from my viewing as I did enjoyment.
The exhibition, supplemented by a number of fascinating and varied evening talks all at discount to students, is fresh and inviting, presenting a remarkable selection of paintings and drawings that will surely never be found together again. Having been back to the exhibition a number of times I can concede that even if the next exhibition is of an at first glance perplexing collection of metalwork or some seemingly unexplainable splashes of paint on a chopping board, I will visit, drop a five pound note in the donation box, open my mind, and keep my discombobulation to a minimum! 'Graham Sutherland: An Unfinished World' runs until Sunday, 18 March.
text copyright © Luke Lewis 2012
images copyright © Estate of Graham Sutherland